January 30th, 2014 by evan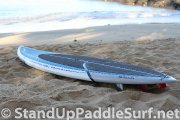 After riding the recon for a number of sessions on different conditions I realize that this board is really good for any rider over 200 pounds that wants a board that can turn on a dime. The quad fin set up is actually really comfortable now for me and if the conditions are nice and not too bumpy this board turns really smooth. My brother shot this video over a few days and it shows how the board performs in really bumpy choppy conditions as well as nice conditions.
Here's a quick video of me and my brother Darin taking turns riding the S.I.C. Recon-10 SUP surfing board in Waikiki.


(click thumbnail to launch video)
And here's another video with me surfing the S.I.C. Recon-10 on some small waves.


(click thumbnail to launch video)
Related posts