April 5th, 2015 by davi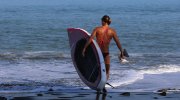 Words by SIC Maui athlete, Lina Augaitis
Welcome to a week of epic SUP surf, fun downwinders, jungle walks, great food and coffee, quaint/rustic cabinas, an amazing family and feel good vibe, jam sessions, and a whole lot of peace of mind.

We SUP surfed "left overs"and "Don's",… two point breaks surfers don't bother going to, not because they are not good but because there is soooo much good around. So, Don's and Left Overs are slated for SUP surfers,… and we are NOT complaining. These point breaks are heaven for us goofy footers and great for beginners through to rippers. We also had great downwind runs in the afternoon with all sorts of fun times.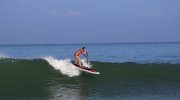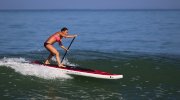 We were blessed with great conditions for our retreat with SUP Surfing in the mornings and wind for downwidners in the evenings. In fact, the conditions were so good that it was hard to take breaks from the boards and paddles…
Matt, Adrianna, Kaitlyn, Sam, and Bill were the crew that came. Robin was the magic behind the lens (Bill's second half and my Florida family). Shawn and Nathalie are the brains and energy of the whole scene, operating AguaVida Surf as well as being talented water people and parents; they have two pretty rad kids Zoe and Enzo.
We started off the week getting our surf legs and surf knowledge up, along with some paddling techniques. Shawn ensured everyone caught waves with ease followed by some hooting and hollering. We capped off the session (as with most sessions) with plenty of fresh Pipa and freshly squeezed fruit juices. Lunches were always filling and delicious with meals such as chicken, veggies, salad, rice, coffee, freshly squeezed juice…. Post Lunch Siesta time is something I wish we could incorporate everyday everywhere…. At AguaVida you can enjoy a siesta with hammocks over looking the ocean, enjoy this time to pick up a yoga mat and stretch under the breeze or just relax in the rocking chairs and chat,… its choose your own relaxing adventure time…..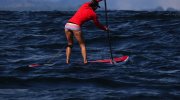 In the afternoons the wind picks up and downwind fun is beckoning our names. We pack up the trailer with boards, pile into the truck and head for Pavones, where we put in. We head about 6 miles down the coast to Punta Salea aka Don's House. There are the perfect amount of little bumps all along the way, while enjoying the views of the tropical jungle coast line, it is smooth sailing until you have to negotiate the surf,… its high tide and windy so it looks rather different than the morning,… but everyone makes it no problems, … we finish off with high fives on the beach.
Dinner on the weekends is run by Cocina Del Sur some great chefs from North Carolina. They served South Carolina Gumbo, salad, and Dixie squares for desert,… YUM!
It's pretty magical to wake up every morning with the sound of waves crashing and remarkable views of the ocean out the window, wild horses, and tropical trees everywhere. Daily breakfast of Costa Rican style coffee, pinto de gallo, eggs, toast and fresh orange juice is delicious and energizes us for the day ahead.
We were lucky, the swell was slowly rising throughout the week so we had more and slightly bigger surf every morning. It was perfect, as people were getting more and more comfortable the waves kept giving us more and more to learn and practice on…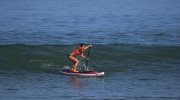 The post surf fresh juices were the icing on the cake. Right off the trees and in our mouths oozing our quenching thirst….Post surf lunch back at AguaVida consisted of the likes of beet salad, veg, fish, rice, coffee, and different coconut cakes made by Geraldine, traveller and baker extraordinaire.
Some afternoons were a little lazier than others but who's complaining when you get to enjoy a massage by Brittany Castillo, massage therapist and photographer living in Costa Rica for 6 years…
As the week progressed so did everyone's surfing. When you get to wake up and go surf for several hours on a beautiful empty point break, AND surf on SIC Maui SUP surf boards, you will improve and find the obsession…..
Our big downwind day was an 11 mile paddle from MataPalo, a point you can see everyday from the beach. One of the biggest adventures of the day was getting the boats which held 8 boards and 8 people loaded and launched from the beach and through the surf and across the gulf de Dolce. Once close to the point we jumped off and into the ocean and started paddling our way back. We all found our rhythm and tuned into the water and enjoyed being out catching glides. Some took a rest on the boat while others just came by to grab water, pipa, or a snack and chat. It was AWESOME. We finished back at launch site, tired but truly satisfied.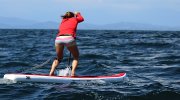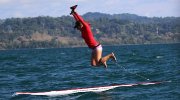 One of the most intriguing and educational aspects of the retreat was meeting Eleonor and Dawan. A french couple who have been living off the grid amidst the Costa Rican jungle for a little over a year. They built their own water systems, have created a jungle garden, and have truly been living off the land. They showed us around their place they built from scratch and taught us about the many different plants, fruits, trees, and different ways of living. They are an amazing couple doing amazing things…. I hope to meet them again in the near future, when I am back at AguaVida surf..
A post surf, post lunch chill session was interrupted by an idea to go for a cruiser bike ride along the 3mile or so dirt road to Pavones. The adventure began when the idea was born….First, we needed to fix some bikes to the best of our ability,.. after some tube buying, and wrestling with wrenches and bike pumps we ended up with 4 bikes plus Enzo on his bmx. Off we went, but little did we know even going for a bike ride in these parts is an adventure,…. we eventually found Pavones, smoothies, and some entertainment before it was time to brave the bikes and roads on the way home.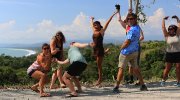 Shawn and Nathalie Donahue are skilled at what they do. They have an energy that will make you feel at home and at ease and likely laugh your butt off. AguaVida Surf is a truly magical place and I feel lucky to have connected with them (Thanks Bill and Robin). Look for more retreats in 2016 and check them out at aguavidasurf Also all pictures and video are taken by Robin Blain. She is skilled and passionate and it shows… Thanks Robin…
Thanks to SIC Maui for the inflatable X12′6, Werner for the 3 piece paddle, Robin and Bill Blain for discovering this piece of heaven and sharing it:) Robin Blain for the pics, SeasonFive, Jolyn Clothing, Kavu for my comfortable wearing needs,… Onit Pro, Clifbar, RydersEyewear, Vitargo, and everyone else:)
live, love, laugh,..DREAM!
Related posts