May 30th, 2016 by evan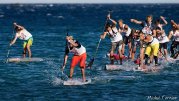 Photo by Michel Terrien
Welcome to another episode of Board Meeting. In this episode, Robert and I will discuss his recent interview with Connor Baxter at the Starboard distributor meeting. In the interview, Connor talked about paddle length and his unique stroke technique.



(click thumbnail to launch video)
You can watch Roberts interview with Connor here: https://youtu.be/Q7PG-0PrPoQ
This show is presented by Evan from StandUpPaddleSurf.net and Robert from Blue Planet Surf Hawaii.
Related posts