December 18th, 2011 by evan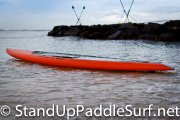 I recently took delivery on the new SIC Bullet 12 and I believe this is the first Bullet 12 with steering and the new handle. First thing I noticed was how light the board is. When I unloaded it out of the shipping container, even with the cardboard box it seemed way lighter than I expected. I was blown away when Mark told me he thought the board weighs 21 lbs.

I took the board straight from Young Brothers (shipping company) to Old Mans in Waikiki. There was light wind and chest to head high waves. The texture of the ocean was a little bumpy, similar to Kona wind weather but the waves were coming in every 5 to 10 minutes. I caught the first wave, then the second and so on. Here's what I noticed:
The B12 is the closest board I've ridden (surf SUP's included) that allows me to catch non breaking bumps that were only possible in an OC-1
It has really good off the line speed
The initial stability is a tad bit tippy (compared to Bullet 14) but it won't flip easily
The B12 catches waves with ease
It can surf chest high waves with no problem (see below)
The steering makes a big difference even though it's only 12′6″x27.5″
The B12 is super fun
It should be able to comfortably float average guys up to 220 lbs
Lighter riders under 170 lbs will fly on this
I have yet to try it on a downwind run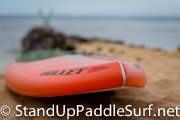 "Say hello to my little friend!"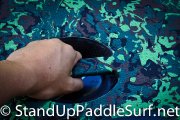 I think the new handle is a breakthrough. No more tiny slots where you need rock climber finger strength. With this handle and the light weight of the board, I can pick it up with one hand and lift it over my head. Big improvement.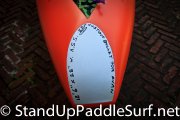 Built for me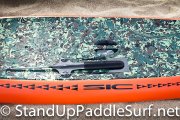 The steering pedal is telescopic. I had it installed forward of the normal positioning so I can use it when trying to keep the nose down. I can extend it if I get into larger bumps or surf. So far it's stayed forward for most of the time.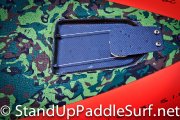 The steering system has a "lock off plate". Screw in the 4 screws (included) and the rudder is locked in the center position. Voila, the board is now race legal when steering isn't allowed.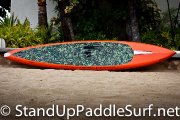 Top view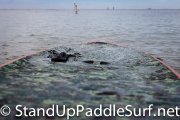 The deck has a slight concave deck.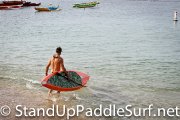 The board begs to be ridden and Dale obliges. He was impressed.
Here are some pictures of the B12 prototype surfing North Shore Oahu waves: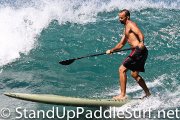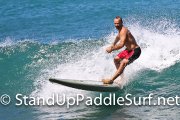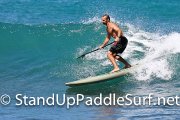 You can get more info at www.SICMaui.com.
Related posts