November 29th, 2007 by edgardo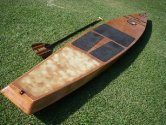 Larry Froley, owner of California-based Gray Whale Trading Company (GWTC), is currently developing an all-wood Touring Stand Up Paddle Kit, which will be named the "Kaholo". The board is still in the prototype stage, and although the first protoype is a 14' board, Larry is considering lengthening it to 16'. According to Larry, at 14′ a stand up board will obviously be a cruiser and/or racer, and the 16′ should fill that niche even better.
The width is planned at 28″ regardless of the length. The board is likely to be offered in two volumes like Gray Whale's paddleboards, with the standard volume being for paddlers over 190 to 200 lbs, and a lower volume for lighter paddlers.

In it's testing phase, the 14' prototype handles extremely well in smooth water to at least a moderate bump, and exhibits excellent speed, according to Larry.
When asked about the advantage of wood over other materials, Larry said that wood is very pleasing to look at, and it is very strong when finished with glass cloth (one layer of 4oz cloth and epoxy resin).
"It draws an intimate connection to the wood boards built and used by the original Waikiki beach boys," he said.
Additional benefits of wood include easy customization for on and/or below deck storage, hydration attachment, decor, etc.
Larry founded GWTC in 1992 as a retailer of sea kayaks. Because of his interest in ocean watersports in general, the company has evolved through the years into a retailer of paddleboards, surfboards, bodyboards, Stand Up Paddle surfboards, paddles and related accessories.
GWTC has worked with Chesapeake Light Craft (CLC) for more than six years in the production of their trademark boards and surf accessories.
"My partnership with CLC began over 6 years ago when I proposed to them a marketable wood paddleboard kit," Larry said. "The owner John Harris was open minded, and a couple of key staff members were avid surfers, and it just moved quickly forward from there."
CLC has been around for many years making sea kayak and small rowing and sailing craft in kit form. Combining Larry's experience with paddleboarding and CLC's experience in small boat design using CAD, they have created a line of paddleboard kits that are great performers, and that give the home craftsman the opportunity to build their own craft, and at substantial cost savings.
CLC manufactures the kits, and after the R&D is done, Larry takes charge in the marketing end and tech support for builders.
We will update you on developments about the board in the coming days.
You can visit their site at www.graywhalepaddle.com to view their line of products and accessories. We have been informed that an updated and completely redesigned website will be up and running within a day or two and will have additional info on the stand up board development.
Gray Whale Trading Company
P.O. Box 160
Elverta, CA 95626
916-300-6111
email: graywhale@surewest.net or info@graywhalepaddle.com
Owner: Larry Froley
Related posts