October 6th, 2009 by clarise
Clay Feeter, publisher of StandUp Journal, sent us the spread of the "world exclusive" due for release on Dec. 21st on newsstands. Photo Annual preview:
Pictured above (l-r) is the Big Island's Odie Sumi racing in Lake Tahoe; Gerry Lopez paddling near his home, Bend, Oregon; Ekolu Kalama, Puerto Escondido.
"Rivers, lakes, ocean adventuring and waves, we see the entire world as a standup paddling canvas and our 2009-2010 Photo Annual sends that visual message.-Clay Feeter, publisher Standup Journal.

Clay moved all previously planned stories forward to their March issue. This "Winter '09-'10″ issue includes 186 images from 73 separate photographers. "It's wall to wall photos! But accompanied by rich, compelling captions directly from the photographers and the watermen and woman in the photos," says Feeter.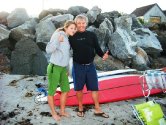 Clay Feeter's daughter Anna (a hardcore standup paddler and captain of her high school volleyball team) and Clay.

He also sent us the World ranking of SUPS and the US state rankings from #1-#50. This is based on Standup Journal's web visits between June 1st and Sept. 17th, 2009.

Standup Journal has served to legitimize sup around the world by showing it IS a "real" sport.
Related posts