December 3rd, 2010 by evan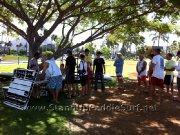 Here are some pictures I took before the start of the 2010 Duke's OceanFest SUP Race. The race had a good turnout this year with a lot of competitors. The conditions this year weren't as good as in 2009, hence the slower times but the last 2 miles seemed to be the best I can remember. We had some wind but a bad tide slowed our times. The tide seemed to change toward the end which helped. So did the small surf. I rode the SIC Bullet 17′4″ and took a really far outside line. The only guy outside of me was a lie down paddle boarder and he was about 30 feet outside of me. Other than that, everyone else was inside of me. I think that probably hurt my overall time but I didn't want to get stuck in the pack.

The Bullet seemed to be the right board for the day. It was stable and I didn't fall once. I caught bumps and had some decent runners so I have no complaints. At Old Man's I caught a set wave and stepped all the way back to the tail of the Bullet and tried to keep 17 feet of board from pearling. I caught the wave to the wind sock and started to paddle toward the buoy when I heard Leleo Kinimaka surfing the wave behind me. Leleo glided through the flats, paddled into the break at Castles and surfed across to the other side. He was about 30 feet behind when I caught my wave and now I was 100 feet behind him. I never caught him. I was actually admiring his surfing abilities and stopped paddling. Darren Kohara and I just looked at each other and shook our heads. If only we could do that…
I was trying my best to stay with Darren when he stopped, sat down and proceeded to take a break. I asked if he was ok and he said he was going to take a rest. Darren rode an 18′ Bark displacement hull race SUP but the rudder system was broken and he was steering with a fixed fin in a cross wind. That sucks. I give him credit for riding that board.
I tried as hard as I could to catch up to Stuart Nakata but he was too far ahead. All I could see was his bright colored Bullet in front of me. I made up some ground and was determined to catch a wave at Canoe's all the way in and I did. My wife shot some video on her iPhone. It was cool to see.
My final time was 8 minutes slower than in 2009. Even though I've been training and felt like I was in great shape, my overall time was slower than last year. Oh well, just about everyone else was in the same boat. I was able to move up in the ranking a bit though and that was good.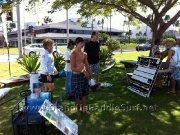 John from Planet Sun pre race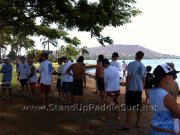 Participants lining up to register for the race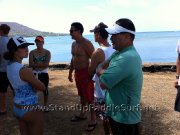 Stuart Nakata (in green) visualizing his race plan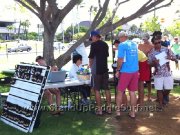 The registration table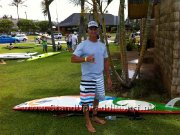 Racing on a surf SUP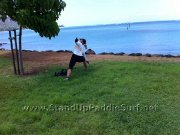 Doing some stretching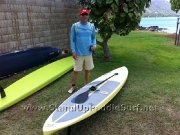 Ray Shiraishi and his Tropical Blends 12′6″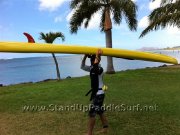 Heading toward the start line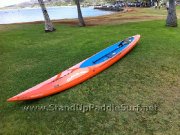 S.I.C. Bullet 17′4″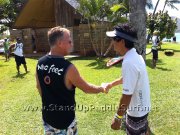 Cory Larieu and Darren Kohara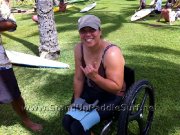 Ann ready to paddle prone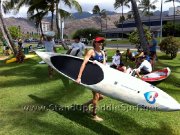 Prone paddleboarder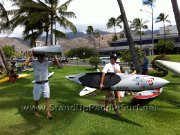 Heading toward the start line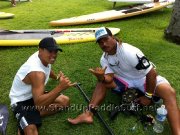 Friend and Sam Pa'e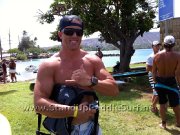 Ed Wheeler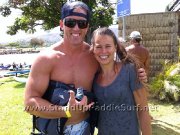 Ed Wheeler and friend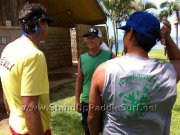 Pre race huddle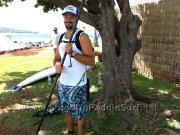 Roberto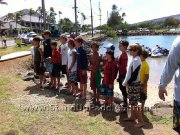 Junior paddle boarders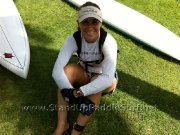 Sharon Stehlik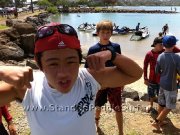 Jonathan Chee shows off his mini guns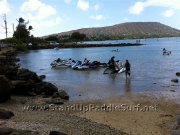 Jet skis for the race escorts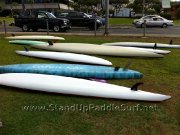 Weapons of choice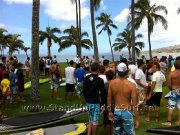 The crowd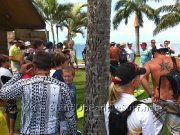 Waiting for the prayer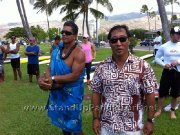 The Hawaiian Priest and Carl Kim
Related posts