January 4th, 2016 by evan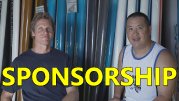 Welcome to another episode of Board Meeting. Are you a SUP surfer/racer on an athlete in general looking for sponsors? Or perhaps a parent looking to get sponsorship for your child? Then this episode is for you!



(click thumbnail to launch video)
This show is presented by Evan from StandUpPaddleSurf.net and Robert from Blue Planet Surf Hawaii.
Related posts