June 1st, 2013 by evan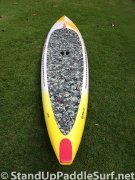 The new production S.I.C. Bullet 12′6″ stand up paddle race board have been on the market for a few months. This one has a fixed fin setup while the one I got back in 2011 had the steering system (A.S.S.) installed.
The production board comes in a few constructions. The one in the picture is a TWCC construction and is heavier than my custom. I love my custom orange Bullet 12 because of the light weight and rudder system but if you don't use the rudder, the fixed fin model is fine. I know guys like Ed Wheeler prefer the 12′6″ as a fixed fin.
This board is great for in and out of the surf races, downwinders and I use it the most for surfing waves under shoulder high in light winds. The Bullet catches everything with ease and then the small bumps as the wave die down. This is one of the best SIC shapes available.
BULLET-12

Open-Water Race and FITNESS: This racehorse was created for the SIC Race-Team who demanded the fastest, yet stable board with ultra-quick acceleration and superior control. Incidentally, offshore race boards have also proven to make some of the most versatile fitness and touring boards. Paddle with ease and see more on your tour.
Related posts