December 12th, 2007 by evan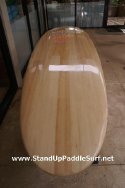 Doug shows us his custom 10′ wood veneer stand up paddle surfboard made by Ted Spencer from Australia. The board as you can see doesn't have an air vent compared to Doug's other custom-made ones. He explains that the wood veneer has a solid, sandwich-like construction so that the air expanding is the last of his worries on this type of board.
Doug claims that Ted has done something unusual with the board, which he says gives the board bite and make it feel like you're riding on an edge.
Continue reading 'Doug Lock Quiver – Custom 10 Ft Wood Veneer Stand Up Paddle Surfboard'