November 27th, 2007 by edgardo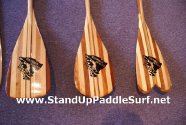 We hear from this two-part video a discussion between Jim of Tropical Blends Surf and a Pro Surfer about stand up paddles. They talk about the different aspects of the paddle — from the grip to the blade — and even the history and global influence put into the stand up paddle.
I think the bottom line here is that stand up paddle surfing is still in its early stages and it's good that people are out to try new stuff for the sake of the development of the sport.
Continue reading 'Stand Up Paddle Discussion with Pro Surfer and Jim from Tropical Blends Surf – Video Part 2′