November 16th, 2007 by edgardo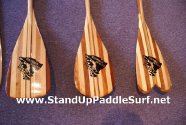 Tropical Blends Surf has taken on the experimental process of finding new, more efficient paddle designs that also suits stand up paddle surfing best. We get to hear about the qualities of these paddles that veer away from the "traditional" bent-blade stand up paddles.
I find the new straight-blade design logical, as I hear it being explained, but let's see how the general public sees this new paddle design. I guess it's all part of the growth and development of stand up paddle surfing.
Watch the video and gather a whole different perspective on paddle design and dynamics.
Continue reading 'Tropical Blends Surf Stand Up Paddles Video – Part 2′