October 24th, 2007 by evan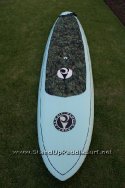 I've been bugging Blane Chambers for about a month now to come to his new shop and let me get a Paddle Surf Hawaii stand up paddle surfboard. My friend Carnet can't stop talking about the one he's riding and how he's buying another new one for both him and his wife so I had to go see for myself. These boards are hard to get. There aren't many in production and they go fast so I think Carnet has been waiting a while.
It's a funny coincidence but Blane and I worked together almost a decade ago for a short period of time. It was nice reconnecting.
I called Blane last week because North Shore has been pumping and I wanted to surf it yesterday. I thought that I'd stop by his place on the way back in to town, after my stand up paddle surf session and see what he had in his new store. Continue reading 'Paddle Surf Hawaii 10′6″ Stand Up Paddle Board by Blane Chambers – The Sweetest Stand Up Paddle Surfboard You Can't Get'