January 26th, 2008 by edgardo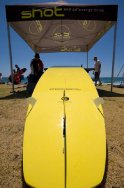 C4 Waterman, in collaboration with Boardworks and Shot Energy Drink, hosted a demo day at Cardiff Reef on November 27 and had some of their products available for raffle. All proceeds went to the Wounded Warrior Project (WWP).
The event was organized by Ted Rutherford, along with Phillip Rainey, Robbie Ellingson, Rick Thomas, and Andy Fisher.
"There was a very large crowd for a weekday event (it was a Tuesday)," said Ted. "At anyone time we had between eight to 13 stand up paddle surfers out, including surf stars Rob Machado and Rick Thomas."
Raffle prizes include a C4 2-piece Carbon Standup Paddle, C4 T-shirts, C4 Paddle grips, and The Tom English DVD: "Sport of Kings". More than $240 was donated to WWP.
C4 plans and Boardworks plan to hold more demo days in the future to support worthwhile causes.
Kudos to C4 Waterman and Boardworks for spearheading this community-veered initiative!