December 18th, 2007 by edgardo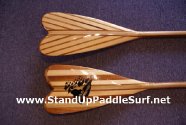 I think this is Evan's first wood paddle, the Leleo Kinimaka dove tail stand up paddle. As you may have seen on previous posts, wood paddles give that softer, gentler feel, and not to mention, they are just absolutely gorgeous. I'd say true works of art.
Check out the video as Evan shows us his new stand up paddle.
Continue reading 'Leleo Kinimaka (Kinimaka Ku Iluna) Dove Tail Stand Up Paddle Video'